Your Trusted Chauffeured Transportation Service Charlotte NC
All-inclusive prices, including gratuity for the Chauffeur! No hidden fees!
At Duke Limo, we provide our clients the opportunity to see and experience Charlotte like never before, in a state of comfort and luxury. As the city's premier black car service, we offer everything from airport pickups and drop-offs to special event transportation, ensuring that your ride is memorable for all the right reasons. We are committed to helping locals and tourists alike get from point A to point B, in a safe, punctual, and stylish manner. Moreover, we understand that you have many options to choose from, when it comes to transportation, which is exactly why we go above and beyond to provide you with an experience rooted in excellence. Journey with us, as we take you through Charlotte's various enclaves and neighborhoods, in a vehicle chosen specifically for its safety and comfort.
Located in Charlotte, with service extending throughout North and South Carolina, Duke Limo can accommodate groups of varying sizes, thanks to our specially curated fleet of luxury vehicles (including vans, limousines, and various SUV/SUV XL/Sedan options). We also provide an unmatched level of convenience, with 24-hour availability, and easy online booking options that get your ride secured in a matter of minutes. Above all else, your well-being is our top priority, and our greatest reason for only employing quality chauffeurs, who are extremely familiar with Charlotte and its greater metropolitan area. At Duke Limo, we cut down driving times, but never corners, ensuring each client is treated to a VIP experience.
Explore the City in Style with our Family Owned and Operated Black Car Service Charlotte NC
At Duke Limo, we're all about going the extra mile, which means providing each client with a personalized and punctual transportation experience. Furthermore, we are a family-owned and operated company, and we believe that local businesses are the backbone of our economy and an integral part of what makes Charlotte special. When you choose Duke, not only do you choose to support locals, but you choose a company dedicated to showing you the unique style of southern hospitality Charlotte is known for.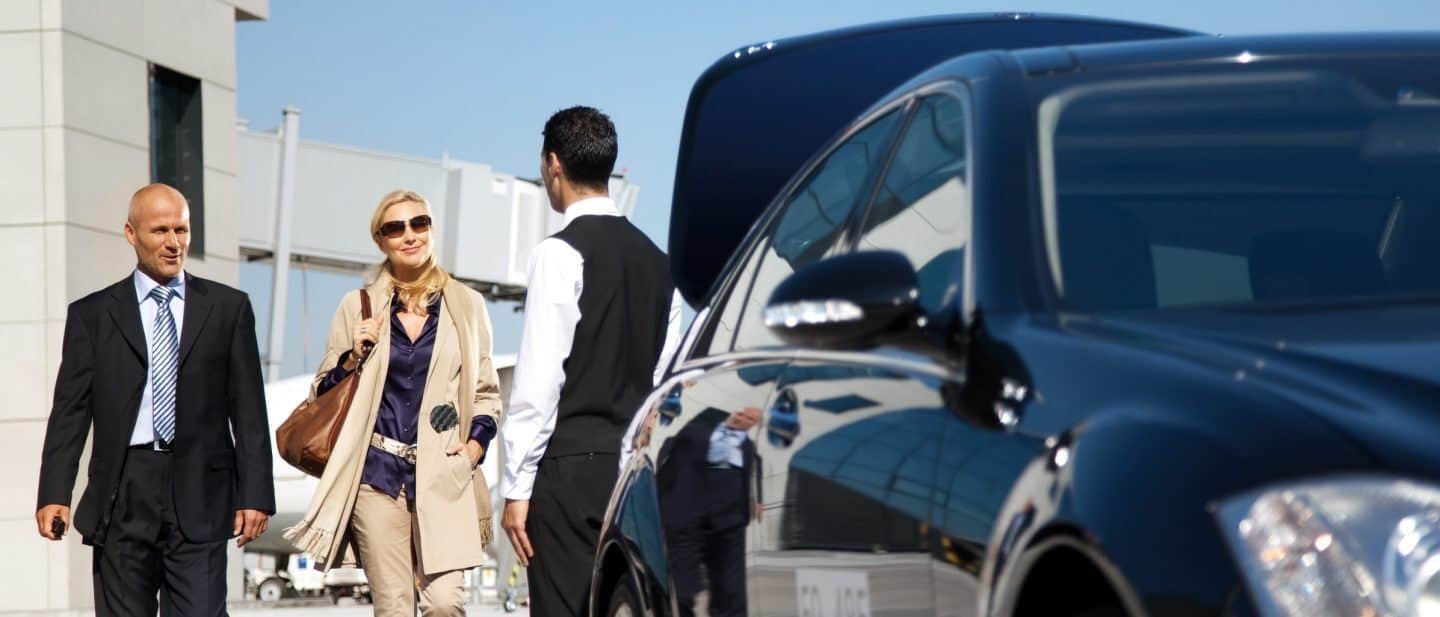 From dispatch to driver, you will find each member of our team is committed to elevating your experience. Speaking of team members, our chauffeurs are professional and licensed by the State of North Carolina and the City of Charlotte. Our drivers are not only required to meet all of the legal requirements necessary for this line of work, but they also must adhere to all of our own company requirements, established and upheld by Duke Limo. Our drivers are all vetted to bring you extra security and peace of mind. Each one has been chosen specifically for their familiarity with Charlotte, their clean driving record, and their experience.
To further safeguard the interests of all parties, we provide 1.5 million commercial insurance and 3 million liability insurance. We are a fully licensed Limo & Transportation company of the State of North Carolina, City of Charlotte, and an official Limo & Transport Company of Charlotte Douglas International Airport. For your added convenience, Duke Limo is also a pet-friendly company, and we operate 24/7, all year round.
More Than Your Average Black Car Service Charlotte NC
With its eclectic culture and diverse offerings, Charlotte is a city that is easy to fall in love with. Furthermore, it's chock full of thriving local businesses that represent the unique spirit of our city. At Duke Limo, we feel strongly about upholding the characteristics that make Charlotte so special and preserving the values that set us apart. We primarily serve the community by offering elite Airport Limo Service Charlotte NC services to locals and visitors alike, however, this is not our only means of supporting Charlotte.
As a transportation company, we are acutely aware of our carbon footprint and do our best to adopt and promote eco-friendly methods when possible. Nevertheless, we want to preserve Charlotte for years to come, for the benefit of our tourists, but most importantly, for the over 2 million residents who call the metropolitan area home. We give back to the community by donating $1 per booking to a local charity as well as to charities that help the environment. A report of charities will be published on January 2024. To learn more about our commitment to eco-friendliness, we are happy to discuss our goals and initiatives when it comes to our involvement with local charities. Each ride you take with Duke Limo is a ride that helps improve Charlotte.
Delivering Quality Black Car Service Charlotte NC
Duke Limo is dedicated to providing excellent limousines and drivers to meet both personal and professional transportation requirements. Our services range from prompt airport transportation, van services, airport SUV/SUV XL/sedan, to corporate or conference limousine services for business travelers. Headed to prom? Our Charlotte Limo Rental will ensure you arrive on time, and in style, at life's most important events. With cars that can accommodate groups of all sizes, we are the perfect choice for those in need of transportation to and from prom, weddings, anniversaries, and all sorts of special events. In town on business? You can make all of your important phone calls from the comfort of one of a luxury car.
Duke Limo values your time and understands the importance of offering a reliable and punctual car service. From dispatch to driving, our team works in tandem, around the clock, to guarantee that you get to your meeting, flight, or event, with time to spare. Red-eye flight? Our 24-hour service takes you where you need to go, whenever, wherever. Traveling with a pet? We'll accommodate your furry friend. To stay competitive, we've made the booking process extra simple. Now you can book online, or by phone, all day, every day.
The Defining Features of Our Luxury Black Car Service Charlotte
Duke Limo believes that you should always reach your destination in style and comfort; we make sure you arrive on time. While punctuality is our top priority, there are countless other reasons why you should choose Duke for your next Charlotte excursion. Here are some of the top reasons why Duke is right for you.
Areas of Affordable Black Car Service Charlotte
Duke Limo operates all throughout the greater Charlotte metropolitan area. This includes all of its immediate suburbs, enclaves, and communities. Charlotte and its surrounding metropolitan area have boundaries in both South and North Carolina. From the heart of downtown to the airport, each day we help clients arrive at their destination, on time and in style. Located just south of Charlotte proper, Duke Limo travels all across the metropolitan area, with cars that can accommodate everyone from individuals to small groups. Explore the city in style, from the comfort of one of our premium black cars, limousines, SUVs, and more.
Stress-Free Black Car Service Charlotte Airport
Duke Limo offers an airport transportation experience that eliminates the stress, hassle, and anxiety that often plagues air travel. For those visiting the Queen City, Duke provides clean, comfortable, and Charlotte Private Black Car Service to and from the airport. Whether you're arriving midday, or taking the red eye out of town, our 24-hour service ensures that you get where you need to be with time to spare. Our experienced drivers have successfully completed countless airport pick-ups and drop-offs, helping our clients travel smarter and safer.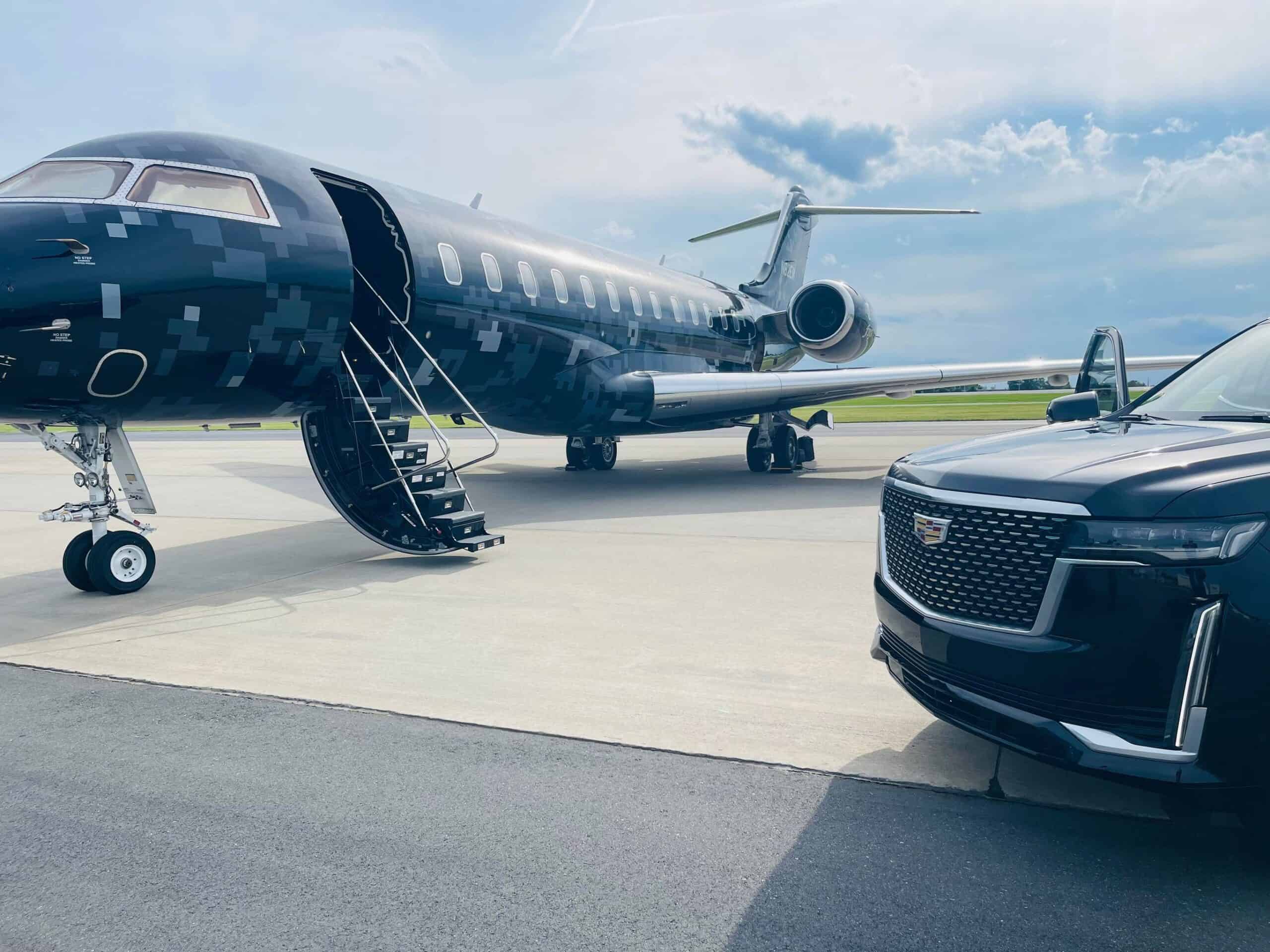 Once you touch down in Charlotte, we'll take care of all the odds and ends, receiving you in a climate-controlled, private, and comfortable black car or limousine. With an entire fleet that features cars of different sizes, makes, and models, we can accommodate everyone from the solo businessperson to the group travelers. Our Charlotte black car service offers both pick-up and drop-off from Charlotte Douglas International Airport.
Duke Limo drivers are well acquainted with Charlotte Douglas International Airport and have insider knowledge regarding the airport's layout and traffic patterns. While we aim to ensure our clients have at least two hours post check-in to iron out any problems and comfortably find their gates, we can easily get you to the airport with as much time to spare as you need.
Charlotte Douglas International Airport (CTL) is located approximately six miles west of the city's central business district. If you're in town for the purpose of work, our black car service can easily transport you from passenger pickup right to your hotel, rental, or other accommodations. With intimate knowledge of downtown Charlotte, we know how to get you to your hotel in short order, safely transporting you and your luggage with ease. Staying elsewhere in the metropolitan area? Not a problem! With a service area that covers the entirety of the Charlotte metropolitan area, we can conveniently deliver you to your destination, whenever, wherever.
Duke Limo isn't just for the savvy business or leisure traveler, we also offer all-inclusive pricing, and your choice of vehicle for Charlotte locals who are traveling domestically and abroad. With Duke Limo, you can securely plan ahead, guaranteeing travel on your arrival and departure dates. Unlike rideshares which can be unpredictable and cancel unexpectedly, Duke is there on time, delivering you from doorstep to terminal. We offer a premier luxury black car service Charlotte locals can rely on, helping them save money on long-term parking, and deliver them to their terminal in record time.
For more information on how our airport booking and car service operates, call us any time and we'll walk you through the process. We offer a risk-free booking experience and are happy to answer any and all questions that you may have, prior to committing to a ride.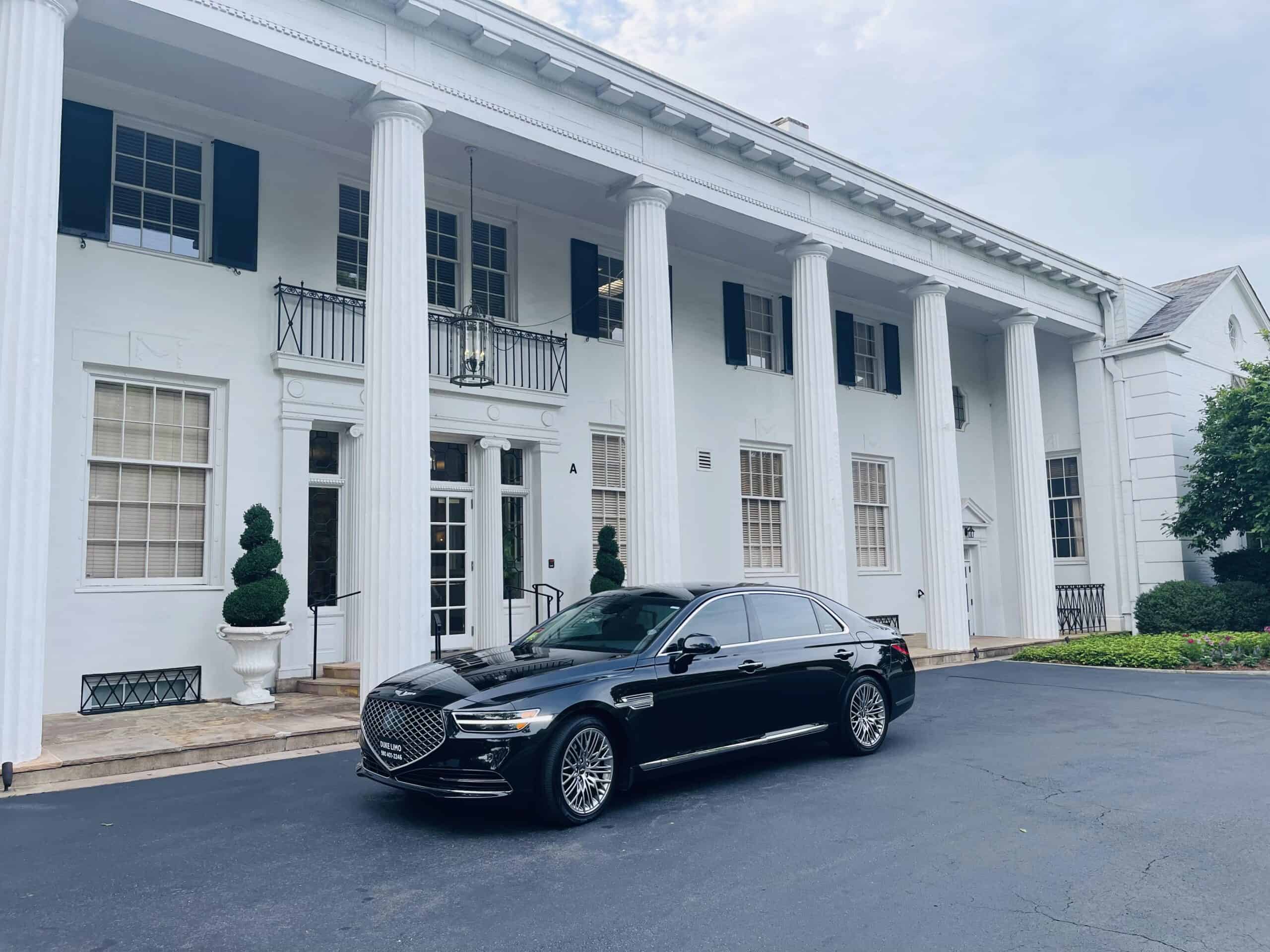 Plan Your Next Special Event with Duke Limo Black Car Service Charlotte NC
As a locally owned and operated family business, Duke Limo is proud to offer Wedding Limo Service Charlotte NC, available for both Charlotte residents and visitors. Celebrate your life's milestones in sophisticated style, with a fleet of luxury vehicles that boasts everything from sleek sedans to attention-grabbing limousines. We have options for all types of clients, whether you prefer understated glamor or captivating opulence. Roll up to your next event in style, with a clean and smooth ride, guaranteed to draw looks of envy.
We provide hands-on service for all of life's special occasions, including, but not limited to:
Anniversaries

Birthdays

Weddings

Prom/Homecoming/And Other Dances

Graduation

Sweet 16's

Quinceanera's 

Bachelor/Bachelorette Parties

Promotions

Family Reunions

Honeymoons

And More
Our chauffeurs are here to accommodate each client's needs, adjusting our services to meet your event's specifications. Need a safe but fun atmosphere for your group's trip to prom? Or maybe you're looking for a quiet and intimate space to regroup after your wedding reception. Each vehicle comes equipped with an impressive sound system, state-of-the-art technology, and pristine climate control.
Enhance Your Next Night on the Town with Our Luxury Black Car Service Charlotte NC Chauffeurs
As a major city in the southern United States, we are a regular destination for concerts, conventions, festivals, and more. As our population continues to steadily grow, so does the demand for reliable Concert Transportation Charlotte. Each year, Charlotte hosts millions of visitors, and we are happy to assist tourists and locals alike, as they come to experience all that Charlotte has to offer. Here are some of our routine pick-up and drop-off locations: 
Sporting:
Truist Field 

Spectrum Center

Bank of America Stadium

CaroMont Health Park

American Legion Memorial Stadium

Bojangles Coliseum

Charlotte Motor Speedway

Dale F. Halton Arena

Jerry Richardson Stadium

Quail Hollow Country Club
Concerts: 
Syla Credit Union Amphitheater 
Neighborhood Theater

The Underground

Amos Southend

Spectrum Center

Knight Theater

Middle C Jazz
Annual Events:
Tuck Fest at the U.S National Whitewater Center

North Carolina Brewers and Music Festival

Speed Street

Taste of Charlotte

Festival in the Park

Carolina Balloonfest

Carolina Renaissance Festival
Shopping
SouthPark Shopping Mall

Charlotte Premium Outlets

Northlake Mall

Charlotte Regional Farmer's Market

Carolina Place Mall

Concord Mills

Atherton Mill and Market

Phillips Place

Sleepy Poet Antique Mall
Entertainment:
Sea Life Charlotte-Concord Aquarium

The Schiele Museum of Natural History and Planetarium

Daniel Stowe Botanical Garden

Billy Graham Library

NASCAR Hall of Fame

Carolina Harbor

Carowinds

Charlotte Convention Center

Charlotte Museum of History

Museum of Illusions

North Carolina Music Hall of Fame

Accenture IMAX Dome Theater
Your Premier Corporate Black Car Service Charlotte NC
Over the past decade, Charlotte has steadily grown, solidifying itself as one of the south's top hubs for business. Consistently ranking as one of America's top states for business, Charlotte draws professionals from all across the United States, and abroad. Even if your trip to Charlotte is strictly business, we want to provide you with an unforgettable VIP experience, that ensures all your moments of travel are stress-free.
In the world of business, time is of the essence. We understand the pressure professionals face when it comes to keeping an organized and punctual schedule. With the city's business center, a mere six or so miles from CTL airport, Duke Limo provides a fleet fit for every type of businessperson. We can accommodate all corporate types including, the solo traveler, the retreaters, and the business and pleasure mixers. Our chauffeurs can pick you up directly from the airport, with easily marked meet & greet options that ensure a swift transfer. Our fleet, featuring everything from sedans to vans, allows you the option to effortlessly attend to your business needs. Need a quiet place to take a power nap before meetings? Or perhaps you have to conduct some important calls while in transit? Our goal is to create an environment suitable for your travel style. Our private, discreet, and climate-controlled cabins are excellent places to carry over your work or get some much-needed R&R between obligations. A corporate client's schedule is often jam-packed, which is why Duke Limo offers riders the opportunity to book as needed. For those seeking an all-day transportation service to shuffle them from meetings to dinners, and everything in between, our chauffeurs can get you to your destination on time and in effortless sophistication. Our Executive Transportation Charlotte service offers every comfort imaginable from lavish interiors to personalized touches.
As a destination known for its business savvy and bustling culture, The Queen City is often a shoo-in for corporate retreats. We make group pickups a breeze, with our extended fleet comprising of XL SUVs and vans, ideal for a swift and seamless airport pickup. Additionally, Duke Limo chauffeurs are masterfully organized, keeping everyone on time and on track. Experience southern hospitality firsthand, with our well-executed airport meet and greets, your perfect welcome to Charlotte.
As per our areas of service, Duke Limo can take you anywhere you need to go within the greater Charlotte metropolitan area. We offer top-pedigree transportation, assisting with everything from quick jaunts to the heart of the city to suburban retreats just outside of the city. Many of our corporate travelers opt to stay in Charlotte's central business district, the epicenter of enterprise and trade. We routinely offer pickups and drop-offs from some of the city's most well-known hotels including:
Hyatt House Charlotte/Center City

Charlotte Marriot City Center

Kimpton Tryon Park Hotel 

The Westin Charlotte

Hilton Charlotte Uptown 

Hyatt Place Charlotte Downtown 

Courtyard by Marriot Charlotte City Center

Aloft Charlotte City Center

And many more!
Staying outside of downtown? No problem! Our all-inclusive pricing makes it easy to calculate your trip totals, and with our convenient online booking tool, you can schedule your ride whenever. Our 24-hour chauffeur service, and book-ahead scheduling, make it easy to ensure you never miss a beat while navigating The Queen City on business.
The Undisputed Choice for Reliable Black Car Service Charlotte and Beyond
While we love taking our clients to and from special events, Duke Limo services are also available for the times when you need reliable, safe, and punctual transportation assistance. As one of the region's largest cities, many locals (and visitors alike) come to Charlotte to receive exceptional medical care. Our service helps ensure that you arrive on time for your appointment. Additionally, we'll guarantee your safe pick-up after services conclude, returning you to your home, hotel, or other accommodations.
Charlotte boasts some of the state's (and region's) most acclaimed medical facilities. In addition to our wide variety of specialists, doctors, and surgeons, The Queen City is home to the Atrium Health Carolinas Medical Center. As a nationally ranked hospital in 8 children's specialties, a regionally ranked hospital in the Carolinas & the southeast United States (children's), and a high-performing hospital in 4 adult specialties and 15 procedures/conditions, many locals and visitors come to Atrium to receive quality health care. Atrium has notable rankings/standings in oncology/cancer, gastroenterology, and orthopedics, and is #8 in the nation for pediatric cardiology and heart surgery.
While Atrium is decidedly the area's most well-known hospital system, Duke Limo is also here to assist with all of your routine medical appointments, from doctor visits to dental cleanings. Instead of fussing with rideshare applications, that, depending on the time of day, can have you waiting for upwards of 20-30 minutes, Duke allows you to plan in advance, with convenient all-inclusive pricing. With our online booking tool, you can select your pick-up time down to the minute, ensuring reliable Healthcare Transportation Charlotte NC residents can trust. At this time, you can also add any pertinent details that will help make your trip easier. Headed to a pediatric appointment? We have top-of-the-line car seats! Need a little extra room after your check-up? Choose from any of our vehicles, including larger SUVs for optimal legroom.
Please note, for the safety of you, and our chauffeurs, we do NOT offer emergency transportation services. If you are currently in need of urgent medical care, please contact 911 immediately. Your safety is our top concern, and while we wish to assist our clients as much as humanly possible, we want to ensure that you receive the necessary care that you need. If you call while in need of emergency services, please be advised that we will have to decline your ride.
Excluding emergency care, Duke can help with a wide variety of medical/health transportation. If you're visiting The Queen City for medical procedures or care, we can assist you throughout the duration of your trip with easy pickups and drop-offs from the airport to your appointments. We service all areas of the greater Charlotte metropolitan area. Staying in one of our city's suburbs or bedroom communities? No problem. We'll still get you picked up and dropped off with plenty of time to handle any pre-appointment paperwork. 
Duke Limo is here at your service, offering reliable transportation before and after: 
Routine/specialty appointments

Checkups 

Post Surgery chauffeur assistance pre/post-procedure. 
While we would love to be of help to all of our clients post-surgery, for the safety of all involved, our Charlotte limo rental should only be utilized by those undergoing minor surgeries and procedures. If your procedure requires intensive aftercare and continued monitoring, please be advised that we will likely recommend finding other transportation. If you're unsure about whether or not your procedure falls into our scope, please give us a call at any time to verify. The more information that you can provide us at that time, the better equipped we'll be to either finalize your appointment or recommend other avenues.
Top Black Car Service Charlotte for University/College Transportation
Duke Limo's competitive and all-inclusive pricing philosophy makes us an attractive option for college and university students in need of transportation. Maybe you need to lock down reliable University Transportation Charlotte NC in preparation for your final exams. Or perhaps your car or other form of transportation is currently out of commission? There are plenty of reasons as to why a college student needs reliable transportation, and we are here to help aid in your success. We understand the importance of arriving at class on time, especially in those courses where attendance counts, and with our easy online booking tool, you can get last-minute transportation at a moment's notice.
Our luxury fleet has options for all types of students. So, whether your style is discreet or you're looking to make a splash, we have a wide variety of options, specifically curated, and customized with your comfort in mind. All cars, regardless of make and model, come with a climate-controlled environment, and plush seating, so that you can spend the entire car ride as you see fit, whether that involves a last-minute cram session or some simple pre-exam meditation.
The Black Car Service Charlotte NC Relies on for Elite Customer Service
When riding with Duke Limo, you might be the passenger, but you get all of the privileges that come with being in charge. While transportation is our namesake, we are dedicated to providing a high level of customer service that puts you at ease. We make it a priority to get to know our clients, paying attention to small details in an attempt to better connect, serve, and impress. Everyone likes to travel in a way that makes them comfortable, and at Duke, we're here to accommodate your needs. Our process begins with a relaxed, user-friendly, booking experience, where clients can either enter all of the necessary details online with our website's scheduling tool. Or, if you prefer to speak to a member of our team over the phone, we can answer any questions that you may have, prior to booking. Either way, we offer an all-inclusive pricing structure, and the ability to easily amend your booking, and or change plans as necessary. No one understands better than our team of professionals that travel can sometimes be unpredictable, and things change unexpectedly, especially when it comes to air travel. With 24-hour service and dispatch support, we can iron out any kinks or issues in a fast-acting, solution-oriented manner. Unlike other rental services or rideshare applications, we operate from a flexible mindset. Together, we'll help ensure the ground transportation portion of your trip runs with ease and efficiency.
Duke is a premier service for travelers of all types, but as a locally owned and operated black car service Charlotte residents are also treated as VIP clientele. We routinely help those in our community make important appointments, celebrate milestones, and provide reliable travel when clients are unable to access transportation, or simply want to sit back and relax while someone else takes charge of driving responsibilities. Rather than bombard you with hidden fees, and try and upsell you after the fact, we operate with full transparency. Whether you're booking our services for reliable Sports Event Transportation or have decided you'd like to go all out for your next special event, each client is treated with respect, care, and consideration.
Special event work makes up a large portion of what we do. With a fleet of sophisticated cars that exude glamor, style, and functionality, we help our clients make a splash as they arrive at and from their special events. In an effort to make your ride with us all the more memorable, Duke chauffeurs can add special touches and requests, within reason. If you're wondering how we can improve your ride, and what special additions are available, feel free to give us a call. At Duke Limo, we are consummate professionals, who are accustomed to last-minute problem-solving, and know how to expertly remedy any issue in record time. With that in mind, we always very much appreciate clients who can give us time in advance to ensure everything is executed without a hitch. Either way, we promise that you will receive the highest level of customer care and service, whether our time serving you results in a short trip from the airport to your accommodations or constitutes a night on the town celebrating your anniversary.
So what are you waiting for?
Call us today and book our transportation service for personal or special occasions. We are dedicated to continuous innovation and the highest standard of service.
Call us now – 980-401-2246
Professional chauffeurs
at your fingertips
Airport Transfer
To Airport From Airport
Station Transfer
To Station from Station
Special Occasions
Birthday Party - Wedding -
Sweet 16 - Prom
Special Occasions
Sport Event - Night Out - Winery Tour - Personal Events
Getting That VIP Treatment You Deserve
The Chauffeur Transportation Charlotte Endorses for Safety, Punctuality, and Decorum
Safety is something that we at Duke Limo take very seriously. From the chauffeurs that we hire to the vehicles that we implement into our fleet, we take extra precautions to ensure that your ride with us is anxiety free. Our drivers follow a strict code of conduct and are expected, at all times, to follow the rules of the road. This includes adhering to all traffic laws, avoiding speeding, and driving in a controlled and focused manner that leaves you feeling secure and satisfied. Our chauffeurs are also expected to act approachable and hospitable, while always remaining professional. If for any reason you are dissatisfied with your ride or feel that your safety has been compromised in any way, we want to know immediately. Our goal is to provide a level of care and consideration that extends beyond your average transportation and rideshare service. To support that goal, we work hard to maintain and manage both our employees and our inventory. Depending on the nature of your ride, we want you to have a fun, enjoyable, and relaxed time. And while we heavily vet our chauffeurs and have gone above and beyond to cultivate a company culture of honesty and integrity, we also understand that accidents happen and sometimes experiences fall short. We value your customer feedback and encourage all of our clients to share their thoughts. Let us know what you think, what could have been improved, what you loved about Duke, and everything in between. This helps us maintain our undisputed reputation as Charlotte's premier black car service.
Booked 5 trips already from Charlotte to Boone.Courteous, punctual and good price. Overall gray service. Thank you!
This was a GREAT experience for my son senior prom. They arrived on time and very professional. I will use this service again.
Outstanding service with Duke Limos. Travelling for work and the transfers from and to the airport were seamless, the vehicle was pristine and the driver was very professional. Highly recommend.
Descubrí que el servicio de Duke Executive Black Car es muy puntual y profesional. Mi conductor fue cortés, el coche estaba muy limpio y todo salió muy bien. Estoy muy satisfecho. Recomiendo muchísimo Duke Limo para sus necesidades de transporte corporativo.
I found Duke Executive Black Car service to be professional and on time. My driver was courteous, the car was clean and everything went smoothly. Very satisfied. I highly recommend Duke Limo for your corporate transportation needs.
I recently had the pleasure of using Duke Limo and Luxury Car Service for a special event and I couldn't be happier with my experience. From the moment I made the reservation to the time I was dropped off at my destination, everything was top-notch. What really set Duke Limo apart from other luxury car services I've used in the past was their attention to detail and commitment to customer satisfaction. I cannot recommend Duke Limo and Luxury Car Service enough for anyone in need of a high-quality, professional, and luxurious transportation service. I will definitely be using them again for any future events, corporate or special occasions. Thank you, Duke Limo, for making my night unforgettable!
Athena Catapano
2023-04-25
I recently had the opportunity to use DUKE Executive Black Car service, for a business event, and I must say their service was nothing short of exceptional. The entire experience exuded class, comfort, and professionalism. Our chauffeur arrived ahead of schedule, allowing us ample time to settle in and ensure we wouldn't be late for our important meeting. The executive black car was the epitome of luxury and refinement. In summary, I highly recommend Duke Executive Black Car service for anyone seeking an unparalleled limousine service with a touch of sophistication. Their dedication to customer satisfaction, combined with their luxurious vehicles and competitive pricing, sets them apart from the competition.
Captain Patrick
2023-04-25
I use Duke limo every time I fly for business into Charlotte. Vasillios and his drivers are very polite professional and courteous. In my experience they are the best I ever used. The cars are the newest models, spacious and are always keept up very clean. I planned to use Duke black car service for years to come. I definitely recommend to everyone Duke black car service because of its excellent service.
Sabah Cambrelen
2023-04-20
Amazing experience!!! Duke Limo was incredibly professional, excellent cars and superior service. Any time I will be in Charlotte I will be sure to use them!!!
Joshua Stockley
2023-04-02
If you're in need of a shuttle to and from CLT, then this is the only service you should consider. First, extremely responsive to my initial inquiry and with an extremely competitive quote. Two, punctual (to and from). Three, vehicle was immaculate. Four, owner and son were polite and courteous. Gave tips on what to do in Charlotte. Five, greetings when I arrived and wishing me safe travels back home. If I am ever in CLT for business again, then they will be my first call. Should be yours as well.
How to Begin Your Black Car Service Charlotte Journey
With an active presence across social media, you can always find a way to connect with Duke Limo. Our website is ground zero for making reservations and plans, and here on our page, you can get started with your transportation request whenever, wherever. Here, you can also learn more about our niche services including health transportation, special event services, CTL airport pickups/drop-offs, and routine rider information. Need to get in touch with a member of our team immediately?
Our 24/7 customer service can help you confirm your plans, make changes, or issue cancellations, all from the convenience of your location, on your own timeline. We understand that things happen, and life can get in the way, which is why we're committed to helping you change your plans as needed, with a zero-fuss, and risk-free policy. Canceled flight? Suddenly in need of a bigger car? Allow us to do the heavy lifting for you, so that all you'll need to worry about is sitting back, relaxing, and enjoying the ride.
When crafting our pricing structure, we wanted to reflect our superior service, while also remaining competitive. As a result, you'll be able to get all of your pricing information upfront with no risk of hidden fees cropping up along the way. From start to finish, you can always rest assured that you know exactly what you're in for, from the car you've chosen, to the price you've been quoted, and everything in between. Ready to experience Charlotte as it was meant to be seen? From the comfort of a safe and punctual luxury vehicle? Give us a call at your leisure or visit our website right now and fill out our booking form. We look forward to serving you and showing you why Duke is the chauffeur transportation Charlotte endorses above all others.
To learn more about our services, visit our social media profiles such as Instagram, Facebook, and Linkedin. Don't hesitate to contact us right away!